ULTRONER Alieno 70W Vape Box Mod
original price $59.90, now only $53.90
The Original ULTRONER Alieno 70W TC VW Vape Box Mod is made from ABS and Stainless Steel. The Alieno box mod Powered by SEVO-70 chipset to supports max. 70W output. The Ergonomic design makes it more convenient to use and supports replacement battery tube (not included). The redesigned top cap adapts to 24mm atomizer.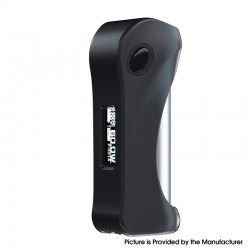 SMOKTech SMOK Scar-Mini 80W Box Mod
$34.99
The Original SMOKTech SMOK Scar-Mini vape box Mod is a mini portable version of its predecessor Scar-18 Mod and has been optimized and innovated on this basis while taking into account excellent functions and high-quality design. SMOK Scar-Mini Mod is getting lighter and lighter, adopting a unified leather and metal design, ergonomic size, comfortable to hold, and the same support IP67 Waterproof & Dustproof & Shockproof. The difference from the external structure of Scar-18 is that SMOK Scar-Mini transfers the battery slot to the top, and the type-C port is placed at the bottom of the mod. This slot can hold a single external battery 18650 battery (not included). Changing the battery is more convenient and quicker. The maximum output power of Scar Mini is up to 80W, which is easy to adjust freely through the side buttons, and the power range of 1W~80W allows you to get along with each puff as you like. Scar-Mini is also equipped with a 0.69-inch display. Although it is small, every detail is complete. Provide multiple types of protection measures to avoid potential risks. An adaptive power output function has been added to ensure a constant power output during vaping.